For the Media
E-mail: komunikace@prg.aero

News
Communication of Prague Airport Subsidiaries Is Now the Responsibility of Michal Procházka
3. October 2022
Prague Airport department of communication has a new member. On 1 October 2022, Michal Procházka assumed the role of spokesperson for the Prague Airport Group daughter companies Czech Airlines Handling and Czech Airlines Technics. He is also deputy spokesperson for Klára Divíšková, Prague Airport spokesperson.

Michal Procházka has pursued his career in the media environment for nearly ten years. He joins the airport having left the ORLEN Unipetrol Group, where he was responsible for external communication in the retail area, and spokesperson for the ORLEN Benzina gas station network for the past three years. Prior to that, he also worked in the media, which included being the editor and later the editor-in-chief of the Tennis Arena magazine. He is a graduate of the Faculty of Social Sciences of Charles University in Prague, where he studied Sociology and Social Policy.

"I am pleased to have become a member of the Prague Airport communication team. I believe, working here, I will use to the fullest my broad experience in the field of transport and contribute to maintaining a high level of communication across the entire Group," Michal Procházka said. His primary focus will be on the Group subsidiaries, namely Czech Airlines Handling, which provides handling of passengers and aircraft, and Czech Airlines Technics, which focuses on aircraft maintenance and repairs. In the external communication team of Prague Airport, Michal Procházka has joined Klára Divíšková, spokesperson, for whom he will substitute in her absence.



Lufthansa Group Extends Its Handling Agreement with Czech Airlines Handling
9. august 2018
Czech Airlines Handling (CSAH) and the Lufthansa Group have agreed to extend the existing aircraft handling agreement for the period of five years. Under the Agreement, CSAH employees will continue to provide aircraft, passenger and cargo handling services to Austrian Airlines, Lufthansa and Swiss International Air Lines, the Lufthansa Group member air carriers. Lufthansa operates flights to Frankfurt five times a day from Václava Havel Airport Prague, while the Munich connection is offered up to four times a day. Passengers departing from Prague can reach Vienna aboard Austrian Airlines flights up to five times a day and travel to Zurich with Swiss three times a day. The Prague – Geneva route is also serviced by Swiss with a five times weekly frequency.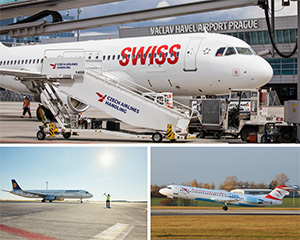 Jet Airways Delivery Flights to Stop Over in Prague
22. june 2018
The deliveries of many new Jet Airways India Boeing 737 MAX aircraft, which the carrier has ordered from the Boeing company, started in last weeks. All aircraft will make two stop overs on their way from the Seattle factory to New Delhi in India, namely in Goose Bay (Canada) and Prague. The first aircraft in the Indian carrier's livery landed at Václav Havel Airport Prague on Friday, 22 June 2018 in the morning and took off for India the next day. Czech Airlines Handling employees will always be in charge of the aircraft handling process, while the stop overs will be managed by SKYPLAN SERVICES FZCO based in Dubai.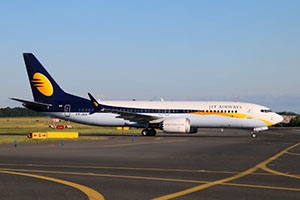 Aircraft Refuelling for LOT Polish Airlines
11. May 2018
Based on its success in a tender, working with PKN Orlen, Czech Airlines Handling will provide LOT Polish Airlines the aircraft refuelling services. The Polish national carrier has increased the number of its connections between Prague and Warsaw during the summer schedule. Effective this May, LOT operates up to five daily connections on the route using either Embraer E-175 / E-195 aircraft or Bombardier Dash 8 turboprop aircraft.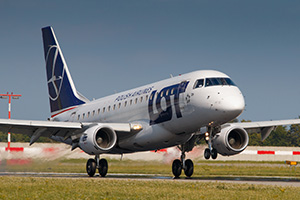 Czech Airlines Handling Provides Its Services to Cyprus Airways
20. april 2018
Cyprus Airways becomes a new Czech Airlines Handling customer effective 1 June 2018, upon the launch of its regular scheduled flights between Larnaka and Prague operated by Airbus A319 for 144 passengers. The carrier will service Cyprus once a week and then add a second frequency on the route effective 2 July 2018. After that the route will be serviced on Mondays and Fridays with arrivals in Prague at 1:35 pm and departures at 2:35 pm. The history of Cyprus Airways dates back to the 1940's. Last year, the brand was relaunched by new investors after a two-year break.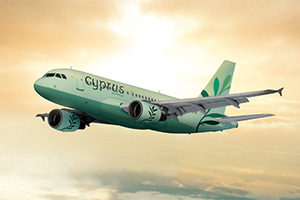 Aircraft Refuelling Services for Travel Service and Czech Airlines
28. March 2018
Aircraft refuelling is one of Czech Airlines Handling's services provided to air carriers flying from and to Václav Havel Airport Prague. Based on the results of a tender, working with PKN Orlen, the company will continue providing refuelling services to aircraft operated by Czech Airlines and Travel Service, including its Smartwings brand, during the next period.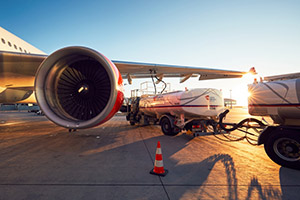 Czech Airlines Handling Employees in New Uniforms
3. March 2018
Since this March, you can spot Czech Airlines Handling employees at Prague's airport terminals wearing new uniforms. Thanks to higher quality materials used and comfortable fits, the new uniforms are to increase the employee comfort and ensure they are easily recognised from workers of external companies active at Václav Havel Airport Prague. The dark blue colour of the uniforms reflects the company's corporate identity, while blue shirts and scarfs designed by Česlav Jaroš, academic painter, complete the look.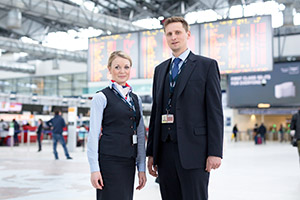 Cargolux Jumbo First Time in Prague
24. November 2017
The Cargo Boeing 747-400F Jumbo in the colours of the Italian division of the Cargolux air carrier, arrived in Prague for the first time. As an exception, the airline included Prague on the list of stop overs on its regular scheduled Johannesburg – Nairobi – Amsterdam – Luxembourg route. Czech Airlines Handling workers, as a part of the cargo Jumbo handling, also loaded car motors headed to the South African Republic into the aircraft hold.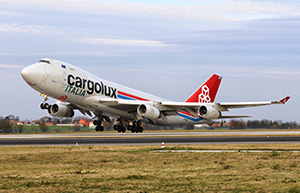 Operations Subject to 2017/2018 Winter Schedule
29. October 2017
The winter schedule came into effect at Václav Havel Airport Prague on Sunday, 29 October 2017. Czech Airlines Handling (CSAH) will continue providing its services to a number of air carriers connecting Prague with interesting destinations in Europe and Asia during the effect of the winter schedule. Naturally, there are also airlines, namely Delta Air Lines, Air Transat, Azerbaijan Airlines, Air Malta, Luxair and Croatia Airlines, which only operate flights from Prague during summer seasons. A Russian air carrier, RusLine, became new CSAH customer on 31 October 2017, when the airline started operating its Prague – Kaliningrad route with Bombardier CRJ-100/200s.
Other changes in operations this winter:
Increased number of Czech Airlines flights compared to the 2016 winter schedule. Flights to Helsinki, Birmingham, Lisbon and Nice will be operated all winter. Moreover, during the Christmas time, flights to Beirut and Yerevan will be added.
China Eastern Airlines increases the number of its connections to Shanghai and launches flights to Xi'an with a twice weekly frequency. The new connection will be executed as a stopover on the route to Shanghai.
Monday and Friday Hainan Airlines flights will still continue to Belgrade.
As a result of ceased operations of Air Berlin, the Prague – Berlin route has been discontinued.
Korean Air decreases the number of its flights to Prague from four to three weekly connections. The Seoul route will be operated with Boeing 777-200s this winter season.
Alitalia decreases the number of flights on its Rome route to five a week.
Lufthansa changes the Frankfurt route frequency of operation to four weekly.
Ukraine International Airlines will only service Kyiv once a week.
Refuelling Agreement with Korean Air Extended
15. October 2017
Czech Airlines Handling (CSAH) has extended its aircraft refuelling agreement with Korean Air for the next period. The carrier, using CSAH handling services, will operate Prague three times a week with Boeing 777-200s during the effect of the winter schedule. At the start of the summer schedule, the carrier will switch back to Boeing 747-800 Jumbo Jets.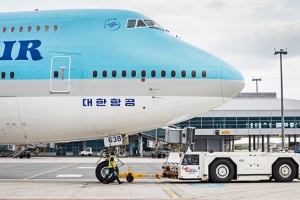 CSAH Workers Handle Italian Prime Minister's Aircraft
8. September 2017
The Prime Minister of Italy, Paolo Gentiloni, stopped in the Czech Republic for a short visit on Thursday, 7 September 2017. On his way from Ljubljana to Rome, Mr. Gentiloni met with Mr. Bohuslav Sobotka, the Prime Minister of the Czech Republic. Czech Airlines Handling workers were thus able to provide their handling services to the government Airbus A319CJ Aeronautica Militare, with the MM622423 registration mark, which brought the Prime Minister to Prague.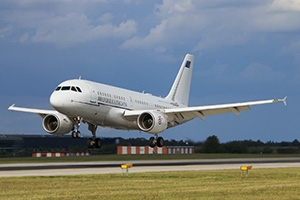 Japan Airlines Visits Prague after Several Years
7. September 2017
During the summer, Czech Airlines Handling employees handled two Japan Airlines' charter flights. The charter flights, arriving from Japan operated by a Boeing 777, have followed up on the tradition of popular Japanese tourist trips to Europe after a three-year break.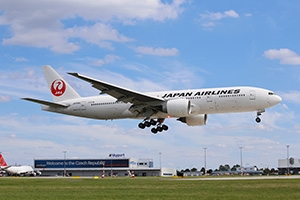 Handling of Air China's Airbus A330-200
4. September 2017
On 16 and 18 July 2017, Czech Airlines Handling employees handled Air China's Airbus A330-200 which arrived in Prague, bringing a Chinese State visit. The delegation arrived for a three-day visit with the Czech Republic's President and also attended a gala evening hosted at Prague Castle on the occasion of a ceremonial opening of the "2017 China Investment Forum".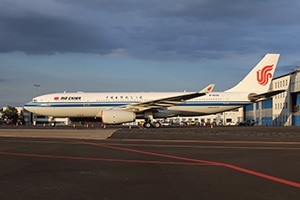 CSAH to Get ISAGO Recertified
31. August 2017
Czech Airlines Handling (CSAH) has passed a demanding recertification ISAGO audit which, after nearly two years, has rechecked the safety, quality of passenger and aircraft handling and adherence to operational procedures assigned by airlines and IATA. According to the audit results, the company has reconfirmed the high quality of its handling services and will receive a certificate for the next period.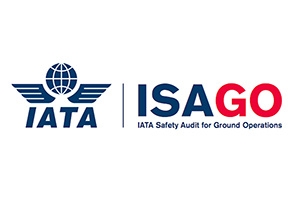 New Customer Turkish Cargo
8 August 2017
On 1 July 2017, the carrier Turkish Cargo launched cargo transport from Václav Havel Airport Prague, servicing the Istanbul – Riga/Vilnius – Prague – Istanbul route. The flights are operated with Airbus A330-200F. The Turkish carrier has thus become an important new customer of Czech Airlines Handling to whom the company will provide complex handling services twice a week. By introducing a regular cargo service to Prague, Turkish Cargo has confirmed the growing importance of Prague in cargo transport.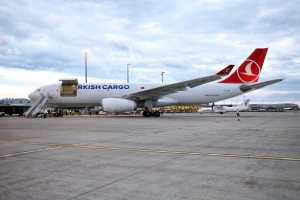 New Customer Georgian Airways
19 July 2017
On 13 June 2017, Czech Airlines Handling representatives entered into a Handling Agreement with a new customer, Georgian Airways. The national carrier of Georgia operates 12 regular scheduled services including those to prime European destinations such as Amsterdam, Frankfurt, Moscow and Vienna. The carrier services Prague twice weekly, on Tuesdays and Fridays, primarily with Embraer 190 aircraft.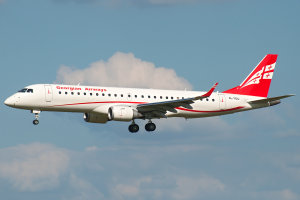 New customer Air Cargo Global
13. June 2017
Since May, Air Cargo Global (ACG), a Slovak company, has been a new customer of Czech Airlines Handling. ACG focuses on cargo transport, especially charter cargo transport to Africa, Asia and South America. Its flights from Hong Kong to Prague will be operated twice a week with a high-capacity Boeing 747-400 aircraft with a technical stopover in Turkmenbashi. With the upcoming summer season, airlines such as Air Malta, Air Transat, Croatia Airlines, Delta Air Lines and Luxair return to the Czech Airlines Handling's portfolio. Czech Airlines Handling employees will also provide handling of aircraft and passengers for new Air Berlin, Azerbaijan Airlines, China Eastern Airlines and Hainan Airlines flights.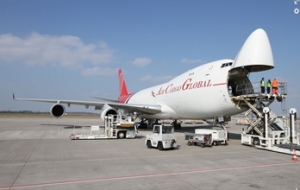 Handling Boeing 787 — Dreamliner
18. April 2017
From 11 to 14 April 2017, Czech Airlines Handling employees provided handling to one of the most modern passenger aircraft in the world, a Boeing 787 – Dreamliner. The aircraft was only seen in Prague for the fourth time, but this time in its longer version, the B787-9.

The Vietnam Airlines' aircraft brought a delegation of the Vietnamese Parliament to Prague which stayed there for three days. The aircraft is virtually new; Vietnam Airlines started operating it last August.

The Boeing 787 Dreamliner is a wide-body aircraft of the middle class in size which offers 210 to 290 seats, based on the particular model.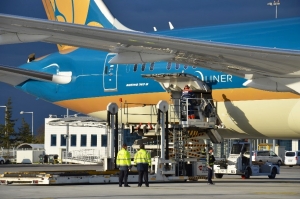 Handling Celebratory Flight to Commemorate 80th Anniversary of Prague Airport
18. April 2017
Czech Airlines Handling actively participated in the celebrations of Prague Airport's 80th anniversary. It handled both the passengers and the aircraft – a Czech Airlines' Airbus A319, during its ceremonial Prague – Piešťany – Brno – Prague flight which copied the route of the first ever flight performed to Prague's airport in 1937.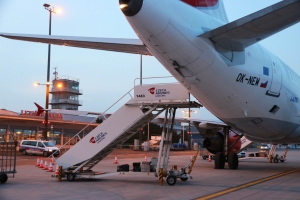 New Summer Schedule
20 March 2017
The last Sunday in March will, once again, bring the change back from daylight-saving time and changes to the airport schedule. Alongside Czech Airlines' new routes to new destinations, Air Baltic, Air Berlin, Alitalia and Hainan Airlines will also increase frequencies on their routes.

With the arrival of the summer season, Air Malta, Air Transat, Croatia Airlines, Luxair and Delta Air Lines will return to Prague's airport. China Eastern Airlines, a Chinese carrier, is also contemplating additional increases in flights, while, just as last year, the Swiss carrier, Swiss, will start operating some of its flights using Boeing 777-300. Despite the increases in operations, it is Czech Airlines Handling's goal to maintain the provision of high quality services to all its customers.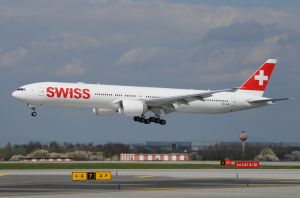 New Main Deck Loader
20 March 2017
In February, Czech Airlines Handling acquired a new TREPEL Champ 140 main deck loader with a capacity of up to 14 tons. The new loader will expand the company's existing fleet of main deck loaders and will be used for handling large-capacity aircraft including cargo flights, namely those by China Airlines Cargo, Qatar Airways Cargo and Silk Way West Airlines.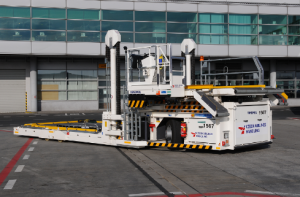 Handling Athletes on Their Way to European Championship
20 March 2017
On 1 March 2017, employees of Czech Airlines Handling handled the flight of Czech athletes headed to the peak of this year's indoor season – the European Championship in Belgrade. The group comprised 25 athletes who left the airport aboard Air Serbia's flight at 9:30 am. We wish to congratulate all seven medal winners!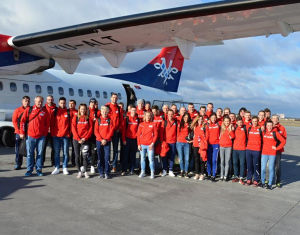 Handling of 13 Milionth Passenger
18 January 2017
Czech Airlines Handling employees handled their 13 millionth passenger, who passed through Prague Airport arrival hall on 30 December 2016 at 9 am. Soldier Jan Kohoutek arrived in Prague with his fiancée from Thailand. They arrived in Prague aboard an Airbus A321 of Turkish Airlines.

After eight years, Prague Airport has thus exceeded the record of 12.6 million handled passengers in 2008. Thanks are due to all Czech Airlines Handling employees who worked extra hard all season and helped achieve this great result.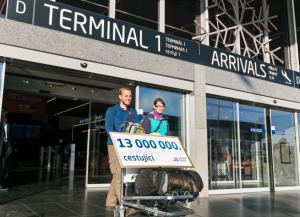 Prestigious Acknowledgement by Swiss International Air Lines
20 December 2016

Near the end of the year, Czech Airlines Handling has received another prestigious award from Swiss International Air Lines, the airline of Switzerland. It was awarded the Star of the Month award for 1st place in the "Check-in Perception" category out of 76 destinations within the European region. Since 2008, Czech Airlines Handling has ranked first in the "Star of the Month" or "Station of the Month" categories a total of 25 times, for which thanks are owed primarily to our employees.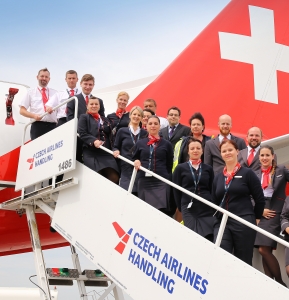 Turkish Airlines, a New Customer
16 November 2016

Turkish Airlines is to become a new customer of Czech Airlines Handling. Its flight will be handled by the company for the first time on 22 November 2016. Turkish Airlines is one of the world's largest air carriers, operating a network of 235 international and 43 domestic destinations. Its fleet comprises a total of 335 aircraft. The carrier uses several types of aircraft, such as Boeing B737-800, Boeing 737-900, Airbus A319, Airbus A320 and Airbus A321 to operate the airport in Prague.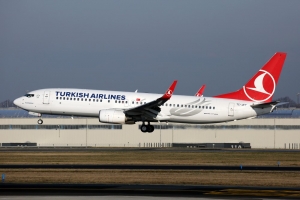 Silk Way Airlines Cargo Handling
16 November 2016

On Friday, 11 November 2016, Czech Airlines Handling employees handled a second Silk Way Airlines cargo flight. After some time, the Azerbaijan airline has reintroduced a modern Boeing B747-800 Jumbo to Prague after it completed the Hong-Kong – Baku – Prague route. The carrier's fleet comprises 19 cargo aircraft, predominantly Boeing B747-400 and 800 and Ilyushin 76 TD-90.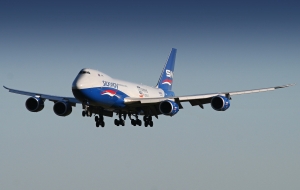 Handling Iran Ministry of Foreign Affairs Airbus A321
16 November 2016

The handling of an esteemed guest – an Airbus A321 of the Iran Ministry of Foreign Affairs – was performed by Czech Airlines Handling employees on 10 and 11 November 2016. Dr Mohammad Javad Zarif, the Minister of Foreign Affairs of the Islamic Republic of Iran, met his Czech counterpart, Lubomír Zaorálek, at Czernin Palace during his two-day visit to the Czech Republic, on which he was accompanied by a business delegation.



Unusual Loading Task for Pecotox Ai
17 October 2016

A not exactly typical loading task was performed by the Czech Airlines Handling team on an Airbus A300F operated by Pecotox Air, a Moldovan air carrier, on 21 September 2016. The loading involved many different wild species, such as mouflon, deer, fallow deer, fox and other forest animals, which were to be transported to a zoo in Dushanbe. All the animals had to undergo a mandatory veterinary examination prior to departure. They were then placed in special transport containers and loaded into the aircraft.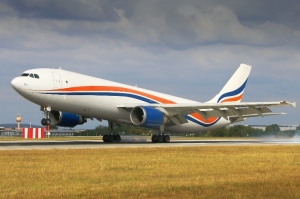 New Aircraft Pushback Tractor
17 October 2016
In line with the approved renewal concept of mechanization units for commercial aircraft handling, Czech Airlines Handling has purchased a new addition to its aircraft pushback tractor fleet – a conventional, towbar-using tractor from the production of Schopf Maschinenbau GmbH, a German company. The new addition is a Schopf F70 tractor with a lifting capacity of 11 tons which is to be used on aircraft with up to 94 tons of MTOW. These include A321s and B737-900s. The pushback tractor is equipped with a Deutz TCD 3.6 type four-cylinder engine and steering of both axles. It will replace a towbarless DOUGLAS Kalmar TBL-180 tractor.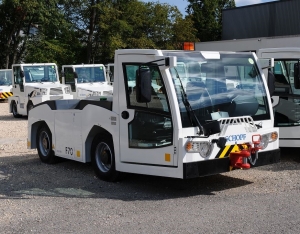 Handling and Refuelling for Brazilian Air Force
16 September 2016

Between 26 August and 6 September 2016, a total of 7 Fuerza Aerea Brasileira (the Brazilian Air Force) aircraft, namely two Airbus A319s, four Embraer 190s and one Boeing 767, stopped at Václav Havel Airport Prague. The purpose of the stopover was aircraft refuelling on the fleet's way to China for a government visit paid by the Brazilian President and his accompanying staff.

Czech Airlines Handling provided the handling and refuelling services for the fleet. Representatives of the Brazilian Embassy in Prague and of the Fuerza Aerea Brasileira forwarded their thanks for our professional approach upon handling the series of flights. We owe our thanks to all employees who were involved in this prestigious event.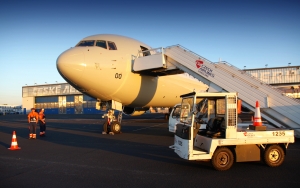 Sichuan Airlines Handling
15 August 2016

Sichuan Airlines, the Chinese air carrier, launched its services on a direct scheduled route connecting Václav Havel Airport Prague and Chengdu in China on Friday, 12 August 2016. Complex handling of aircraft and passengers of these flights will be performed by Czech Airlines Handling. The new service will be operated twice weekly, on Tuesdays and Fridays, with arrivals in Prague at 5:15 p.m. and departures from Prague at 7:15 p.m., local time. The route will be operated by Airbus A330-200 for 272 passengers. It is the sixth new airline with regular scheduled operations to contract complex handling services from Czech Airlines Handling this year.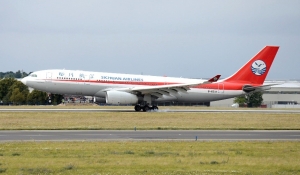 Handling Korean Air's Boeing 747-8I
19 July 2016
Effective 1 July 2016, Czech Airlines Handling has been providing the complex handling of a new Boeing 747-8I operated by Korean Air. The new aircraft has a capacity of 368 seats and will be servicing the Prague – Seoul route four times a week. The route is operated year-round and the carrier will continue to predominantly use Boeing 777-300ER aircraft outside of the main season. The new aircraft will use the same high-capacity stand as the A380 operated by Emirates. A nice touch to the inaugural flight was the fact that it was piloted by a Czech pilot, Captain Slavomír Piskatý.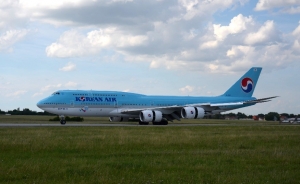 Acknowledgement by Air Berlin
19 July 2016

Air Berlin airlines awarded Czech Airlines Handling the VIP Award for the best handling agent in Europe in the category of operational regularity for the first quarter of 2016.

Czech Airlines Handling won its category in the competition of over 150 destinations including charter ones. It is thus an incredible achievement and congratulations are in order for all Czech Airlines Handling employees. The German airline, Air Berlin, is among the top low-cost carriers. It operates the Prague – Berlin route on a daily basis with Bombardier Q400 aircraft. Air Berlin is the second largest German low-cost airline. Its headquarters are in Berlin, its hubs are at Berlin/Tegel airport, in Dusseldorf, Nuremberg and Palma de Mallorca.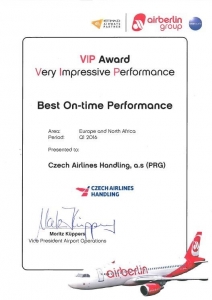 New De-Icing Vehicle
22 June 2016

In June, Czech Airlines Handling obtained a new de-icing vehicle, a Safeaero 220 EH, which will replace the currently used Volvo/Vestergaard vehicle manufactured in 1998.

Compared to the Safeaero vehicles in current use, the cabin of the new truck can be raised to a height of 16m and the nozzle to a height of up to 22m. The height is suitable for A380 aircraft de-icing, including rudders. During the summer months, a modification to the Safeaero truck with evidence No.: 1803 will be performed, during which the vehicle will be equipped with a new computer featuring Wi-Fi and a 4G modem for data diagnostics.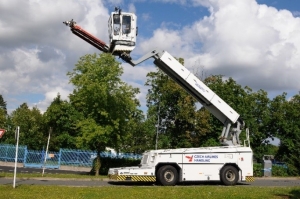 China Eastern Airlines Handling
22 June 2016
On Thursday, 23 June 2016 at 06:35 a.m., for the first time, an Airbus A330-200 operated by China Eastern Airlines is going to land at Václav Havel Airport Prague. Its handling will be performed by Czech Airlines Handling.
A week prior to the inaugural flight, Czech Airlines Handling was visited by a Chinese delegation formed of representatives of China Eastern Airlines who toured the handling company's facilities and learnt about its services. Final negotiations and adjustments to the future contract are currently underway. We are glad that, long-term, the Chinese representatives are content with the handling services offered by us.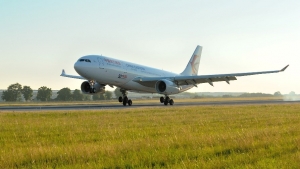 A Thank You Note from Air China
18 May 2016

Czech Airlines Handling representatives received an official thank you note from the Chinese air carrier, Air China, for handling services provided during the Presidential visit to our country in March.

President Xi Jinping arrived aboard a Boeing 747-400. The Chinese airline praised: "the professional service, precision and flawless work of the entire team" and extended special thanks to Pavel Širhal and Roman Červenka for the utmost readiness they demonstrated during the handling of the flight. Czech Airlines Handling management also express their thanks to the entire team for the great representation of the company.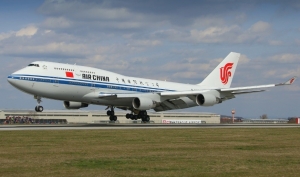 Acknowledgements from Swiss and Korean Air
19 April 2016
Last month, Czech Airlines Handling enjoyed two important acknowledgements:
Swiss named it the best handling agent out of 118 destinations operated by the carrier, while

Korean Air named it the best European provider of handling services out of its 11 European destinations.

We greatly appreciate the awards and acknowledgements and owe our thanks to all employees who are involved in handling the flights of these carriers.

Qatar Airways Cargo Handling
18 March 2016

The first flight of Qatar Airways Cargo landed at Václav Havel Airport Prague on Thursday, 3 March 2016 in the evening. The handling of a cargo Airbus A330 was performed by Czech Airlines Handling, which provides the air carrierwith, alongside ramp handling of its cargo flights, aircraft refuelling services.

Quatar Airways operates the Doha – Budapest – Prague – Doha route using a large-capacity Airbus A330-200F aircraft which can transport up to 63 tons of cargo in full container version.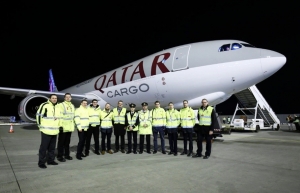 Ural Airlines – a New Customer
17 February 2016

Effective 11 February 2016, Ural Airlines, the Russian air carrier, is a new customer of Czech Airlines Handling. The airline operates flights to Prague three times a week, two flights from Yekaterinburg (on Thursdays and Sundays) and one flight from Nizhniy Novgorod (on Saturdays) using Airbus A320 and A319.